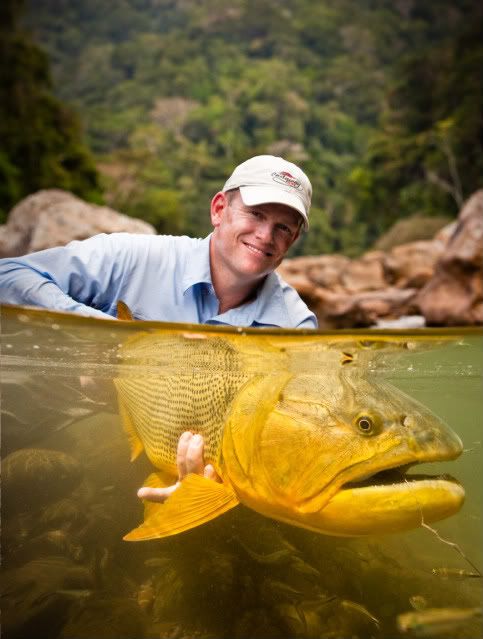 Project:
Devil's Gold
Film:
Castaway Films teamed up with Untamed Angling to create the short film
Devil's Gold
. The format is a bit different from our last project
Equilibrium, The Last Frontier
. Somehow I feel as if the visual and acoustic beauty of people and place are often lost in words. As such, this seven-minute short film is strictly instrumental. My goal for
Devil's Gold
was to tell a story through picture and music and let the viewing anglers fill in the pieces. My narration, as it were, can be found in the
American Angler
article. Thanks to Brian O'Keefe and Todd Moen for publishing the short film in
Catch Magazine
.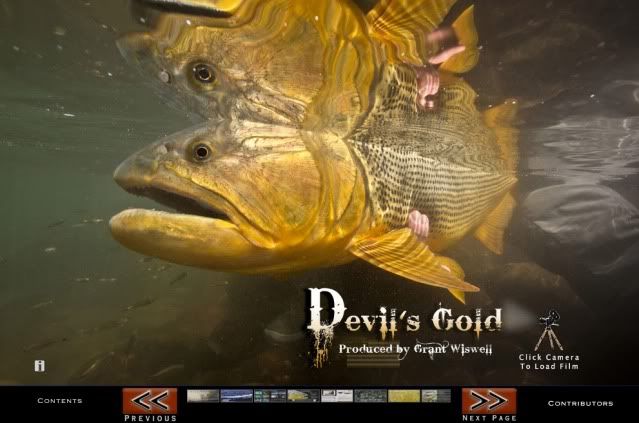 Article:
The
Devil's Gold
article is a 2,600-word piece that focuses on "a day in the life" of an angler on the Itirisama River. It was released in
American Angler
on the 28th of December, 2009, and will be on the stands until March. To see the cover of the article, go to the first image in the Portfolio section of our website. Thanks to Steve Walburn and Russ Lumpkin for publishing this cover story in
American Angler
.


Photo Journal:
Check out a few of our 5,000 photos from the Devil's Gold Project in the Photography section of our website. Below I've listed shot numbers that coordinate with things that I am talking about in this blog entry.


Release Dates:
The American Angler article hit the stands on December 28, 2009; and the short film was released on January 1, 2010, at CatchMagazine.net.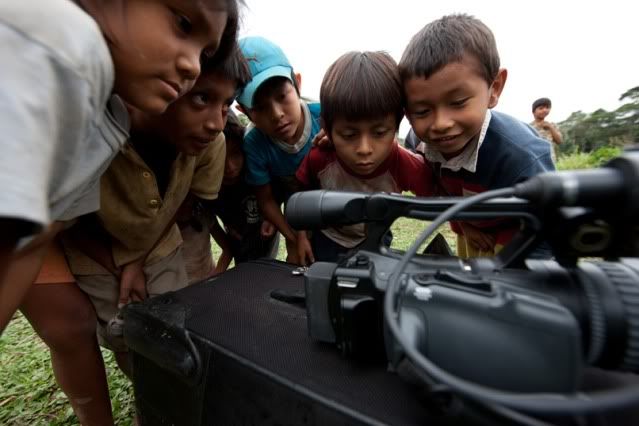 What's with the Name:
So where did we come up with
Devil's Gold
? The village of Oromomo in the tribal language means
Devil's Gold
. Oromomo is the access village to the Pluma and Itirisama Rivers. Apparently, the elders who named the village felt that riches of the region were somehow cursed. For more details check out the article in American Angler.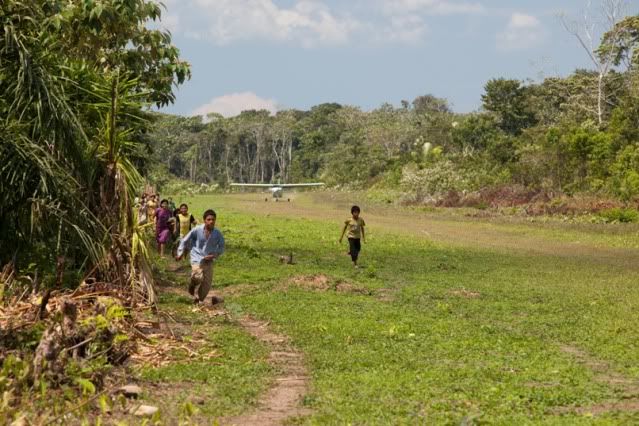 Fishery:
We came for Dorado, PERIOD. Ever since I watched an old Larry Dahlberg video on the subject, I haven't been able to get these magnificent fish off my mind. As it turns out, the Tsimane experience completely trumped anything I had previously seen or heard about the Golden Dorado. Not only are these fish NUMEROUS and WILLING, the warm water is clear as can be, which makes for fantastic fishing. I'd estimate that we sight casted to at least 80% of the fish we caught.

I go into greater detail regarding the dispositions of these fish in my article; but suffice it to say, these fish were not shy! While our Dorado ranged anywhere from 5 to 30 pounds, I'm convinced that 40- 50 pound monsters can be found in the deeper holes. I guess time will tell.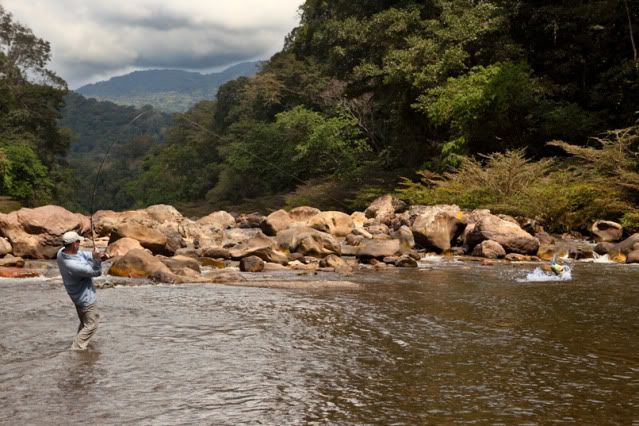 Dorado are not the only game in town; there are tons of Pacu, Yatorana, and random species of Catfish. Ryan hooked into a 100-pound Maturo that punished him for a few minutes before gracefully spitting the hook. If you feel so inclined, feel free to target these species; but, I was more than happy to focus on Dorado. As such, I often passed by the others looking for something GOLD, MEAN, and NASTY.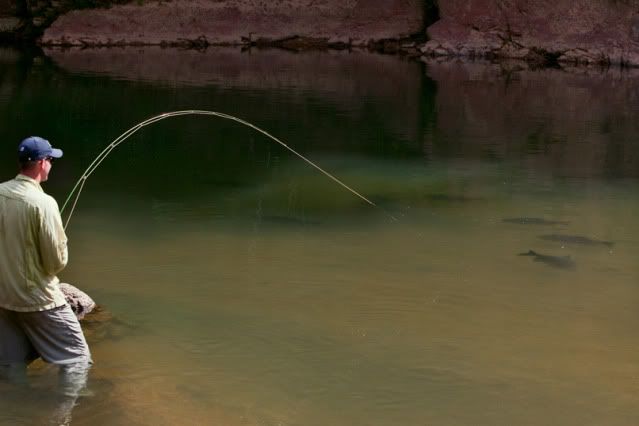 Hey one last thing... Watch your step! Just like the Amazon, there are freshwater stingrays in these rivers. Toward the end of the film clip, you'll see Ocho lifting up something he shot from the front of the boat. At first it looks like a Jellyfish, but it's not. Look closer and you will be able to see the large stinger coming out of the back. We never stepped on any, but we saw at least a dozen in the week we were there. Don't freak out... Just shuffle your feet!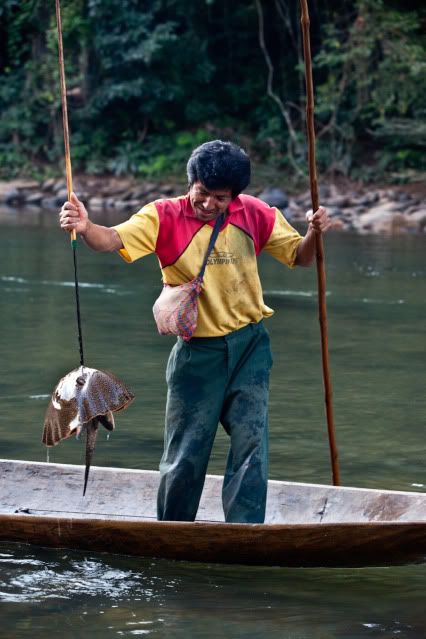 Lodge:
So was this an exploratory trip or a lodge-based experience? Tsimane Lodge is actually two sister lodges that sit about ten minutes apart by air on neighboring rivers (The Pluma and Secure). These lodges provide a quintessential "have your cake and eat it too experience." The fishing feels rugged and exploratory; but each evening you'll come back to enjoy fine food, hot water, and even satellite Internet.

We fished and filmed before the construction was completed; but from what we could tell (and have since heard), these excellent structures are fantastic. Expect gourmet cooking with fine wines, Argentine-grade steaks, and fantastic desserts. Don't expect to lose weight while you are there!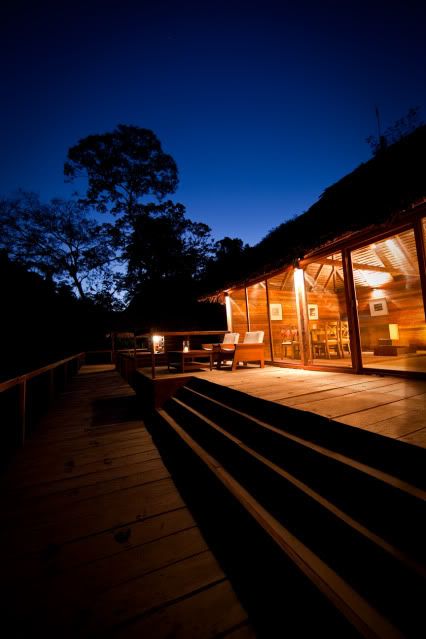 Cool Experiences:
One of the most memorable experiences was getting to camp one night along the banks of the Upper Secure River. While the fishing was great and sleeping with the jaguars was, well um, great as well, I will never forget the sight of the Milky Way Galaxy. Never before in my life have I felt so small as I stared into the heavens at 200 billion stars. Check out Image 4 in the Photo Journal. I know it will sound cliche; but I'll say it anyway, the picture really didn't do justice to what I beheld.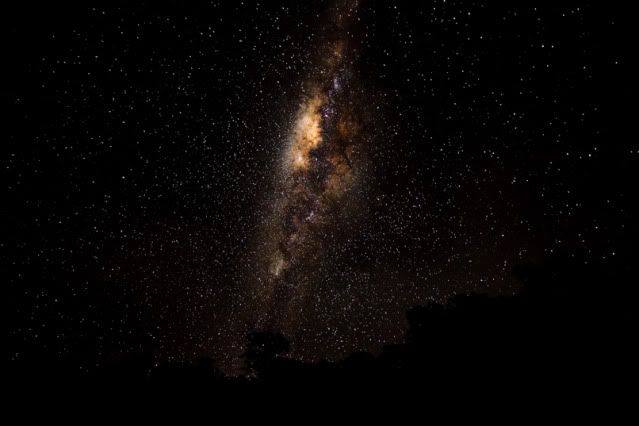 Another memorable experience occurred the second day on the Itirisama River. We were the first Gringos to explore the upper canyon (my friend Joaquin has since gone WAY up and had nothing but rave reviews about it). Anyway, several hours upstream we came into a slower section of river that was chuck full of Pacu. These over-sized relatives of the Piranha took flies recklessly and punished the 8 weights. Somehow the stars aligned just right; and Ryan, myself (Grant), and Joaquin ended up with the Lodge's FIRST Pacu triple. Check out Image 26 in the Photo Journal. We think it might be the first Pacu triple ever recorded in angling history... though it would be hard on the egos if you have information to the contrary, let us know ;-).




For me the highlight of the trip was the Itirisama. While rivers are dynamic and the Dorado and Sabalo are migratory species, we hit the Itirisama with perfect timing. Aside from the fishing, the river will forever be special to me because we were with the first group to ever explore that particular section of river. To the chagrin of our feet, we walked 4 hours ONE WAY to explore the new section. While we were dehydrated and blistered, the effort was well worth it.

Rest assured the fishery that comprises the standard Tsimane program can be approached in a much more casual way. Anglers can always stay close to the canoes and guides, and death marches are not required.

I guess that has never really been my style.

Finally, in the article I only had enough room to mention dry fly fishing in passing. I cannot stress how cool it was to take these Anabolic Goldfish on top. Somehow their persona changed from psychotic attackers of streamers to discriminate sippers of dries. Honestly, these fish took dries like a seasoned trout on your local river. Check out Image 42; it was one of the biggest fish I have ever taken up top... and yes it was with 40-pound wire. Go figure!


Stupid Moves:
Every trip has a bonehead move. Either I've forgotten my tippet, driven off with the rods on the roof, etc. You've been there, too? So for one reason or another, I completely spaced it in the footwear department. I'd heard that the water was around 80 degrees, so not thinking I packed my Simms Flats Sneakers. Let's just say not the best move on my part. These shoes are built for the flats not for mossy jungle rock. After the first 10 seconds of slipping around and tearing my flats pants on a rock, I knew that a solution was needed. You'll see me in the film screwing in wood screws into the bottom of the shoes (also check out Image 43). This wasn't perfect, but at least it kept me upright. To add insult to injury, a few of the screws were mispositioned; and as I hiked, I ended up penetrating my foot with the dang things. I'm sure glad that I had my tetanus shot before I headed to Bolivia!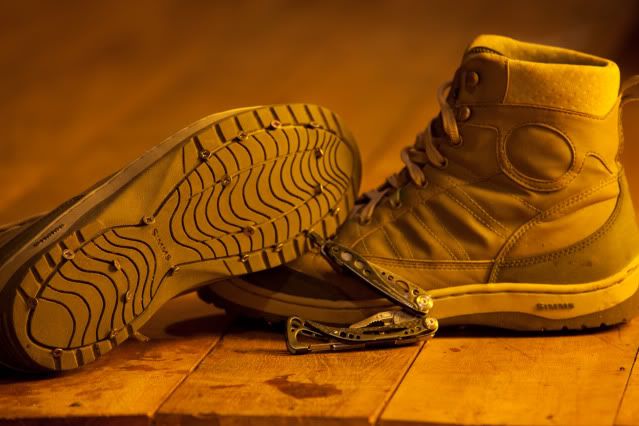 Noel Pollak and the Early Exploration:
Since the publication of
Devil's Gold
, I have come to find out a little more history on the discovery of the fishery. To be clear, I wanted to print this retraction to get the history right and set the story straight.

About three years ago three friends (Noel Pollak, Joaquin Arocena, and Ramiro Badessich) went on an exploratory trip through the Northern part of Argentina, Bolivia, and into Peru. The intent was not to find a new fishery; rather, it was just a classic do-it-yourself adventure. As you can imagine, these guys really got off the beaten path to places that you and I can only dream about. Well as the story goes, the fishing stunk. After a couple of weeks of nothing, their exploratory trip was heading south in a hurry.

It just so happened that Noel, an accomplished Dorado guide, had been fishing in Bolivia for many years prior to his guiding for Dorado at famous Pira Lodge. How he found these rivers in the first place, I still don't know (I'll let you know when I do). Anyway, the fishing was so bad he decided to save the exploratory trip and revealed one of his most guarded secrets. After much inner debate he took his best friends Ramiro and Joaquin to what is now the fishery at Tsimane Lodge.

Noel has since collaborated with outstanding adventure angler Marcelo Perez, Rodrigo Salles, and others at Untamed Angling. These pioneers have jointly built this operation from the ground up. If you want more details you'll have to contact Noel; he knows this story better than I...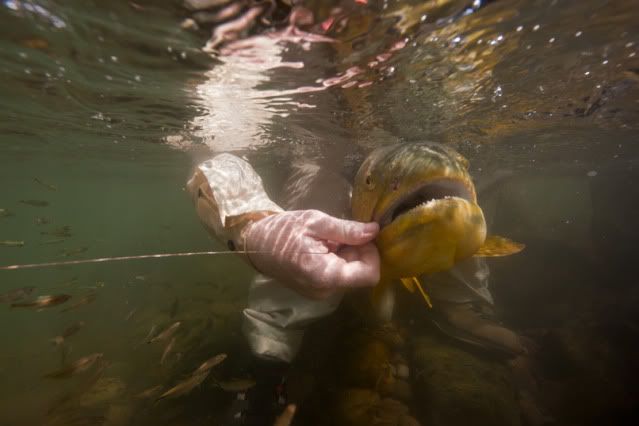 Getting There:
This place is remote. It is about 11 days by boat from the closest town. Fortunately, there are two airstrips that were cut in the jungle years ago. Rumor on the street is that these landing strips were cut by drug lords in the 80's who needed a way to get their cocaine out of the jungle. This place is rich in the Coca, and the natives still stuff the plants in their cheeks for "medicinal purposes." Check out Images 14 and 18. The flight into the village of Oromomo was a couple of hours from Santa Cruz de la Sierra.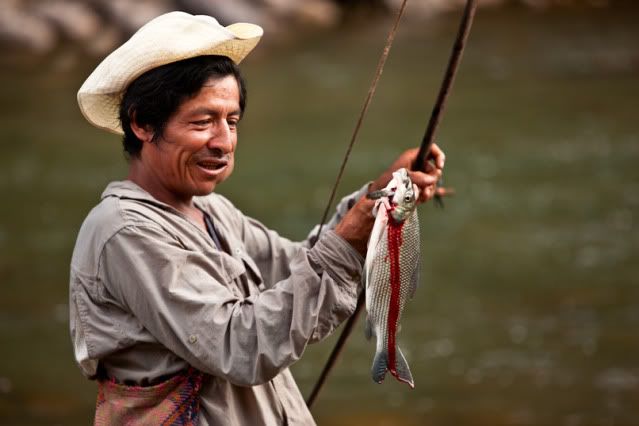 Sponsors:
Simms Fishing Products, Targus Fly & Feather, Smith Optics, Rio Products, AquaTech, and Cliff Outdoors. These are special companies that not only produce the finest equipment and gear available but also generously support independent filmmakers. Thank you for continued dedication to the sport. Below I've listed my favorite product from the shoot:


Simms:
While the most memorable were the flats boots (my bad), I'd have to go with the Superlight shirts and pants as my favorites. Thankfully, there were no mosquitoes; unfortunately, there was a healthy population of No-See-Ums. I found that wearing the long-sleeve shirts and pants were enough to keep me protected. Next time I'm taking a new pair of G4's with Vibram soles and Streamtread! K.C. Walsh and Diane Bristol, thank you! Check out Simmsfishing.com.


Targus:
No question the Glimmer Minnow in purple and black was my favorite bug. Check out Image 9 to see a beat up red and black Glimmer Minnow. Wayne Richey, thank you! Check out Targusfly.com.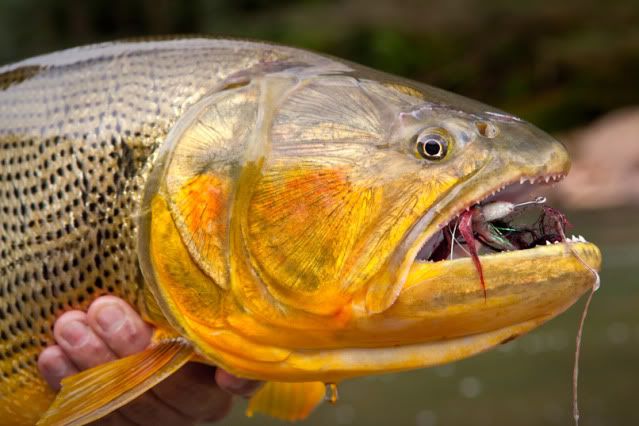 Smith Optics:
I love the Mavericks especially with the copper lenses. I've worn these glasses from Tierra del Fuego to Alaska. For me the copper lens just seems about perfect regardless of the destination. Peter Crow, thank you! Check out Actionoptics.com.


Rio:
We fished the standard bonefish line. I guess I am partial to that line because I took the picture on the box. My bias aside, the floaters worked great. As we were throwing huge bugs in the 4-8 inch range, I over lined my rod with a nine. Make sure to take a few extra lines, as I lost several to misguided territorial Dorado. Simon Gawesworth, thank you! Check out RioProducts.com.


Cliff Outdoors:
No question on this one, I loved the Justin Case. As you can imagine, the humidity factor plus the dumb shoe move made things perpetually wet. The Justin Case was the perfect waterproof big bug solution. Matt Cassel, thank you. Check out CliffOutdoors.com.


AquaTech:
All underwater still shots from the project were taken with the DV-4 Mark III. During the project, I shot with the Canon 1DS Mark III. I completely trust my camera in this housing, and I love the optics from the LP-3 large-dome port shooting wide with the 14mm f/2.8 II Canon lens. Alan Love, thank you! Check out Aquatech.net.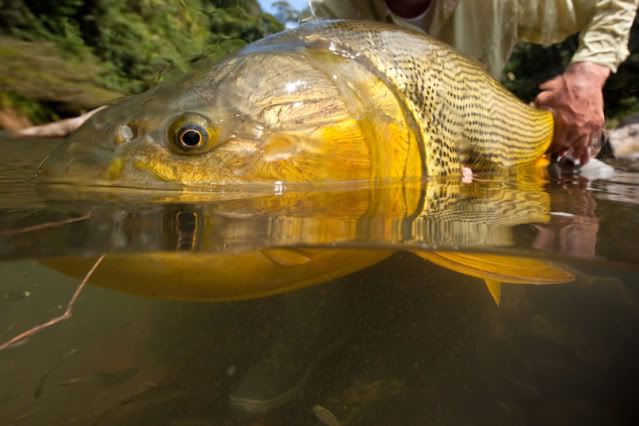 When Filmed:
The project was filmed during a "standard week"in August 2009. We were fortunate enough to experience Tsimane Lodge the first week it was open for business.


Chopped and Shot:
Grant Wiswell. The same guy who produced
Equilibrium, The Last Frontier
.


Cameramen and Photographers:
Ryan Davis and Grant Wiswell. Also a shout to Joaquin Arocena for grabbing the camera and filming as I hobbled down river after a fish that was way too far into the backing. The fish can be seen in Image 1 in the Photo Journal. Please note that Ryan Davis was the guy that shot many of the images in the print article in
American Angler
. I appreciate your shooting my ugly mug!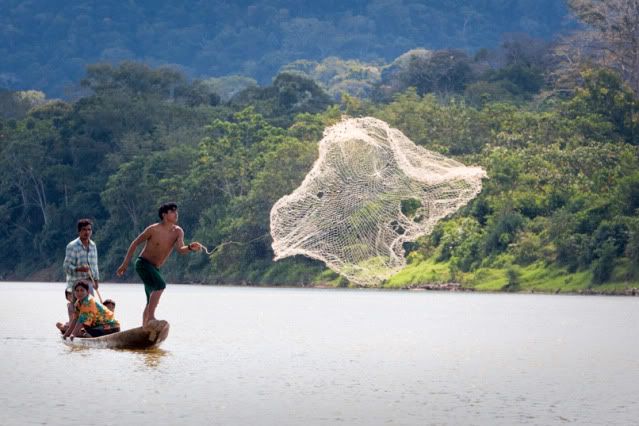 Soundtrack:
We have been extremely fortunate to work with some of the greatest musicians in the business. Nathan DeVore was the Director of Music and works for David Vanacore Productions. This group consistently produces music for the likes of
The Apprentice, Survivor
, and myriad network and cable programs. It is often said that music accounts for at least 50% of the production value. We couldn't agree more.
Equilibrium
and
Devil's Gold
would not have been the same without Nate or David Vanacore. Check out DavidVanacore.com.


Untamed Angling:
Marcelo Perez, Rodrigo Salles, Joaquine Arocena, Noel Pollak, Ramiro Badessich, Ale, Javier, and others. These outstanding anglers are the best guys you'll ever meet! Please check out their other cutting-edge destinations at UntamedAngling.com. We have enjoyed fishing all across the world, and I can say with confidence that this outstanding group relentlessly searches for the best angling on the planet. From the Seychelles to the tip of Tierra del Fuego to the headwaters of the Amazon, Untamed Angling is discovering the best fishing on earth.


Other Articles, Films, and Resources:
We very much enjoyed the article in
Field and Stream
by Kirk Deeter. Most of the photos from that article were shot by Joaquin (he has quite the eye). Our new friend Henry Gilbey has a very nice photo blog entry on his experiences at Tsimane Lodge. Many of his excellent photographs can be seen over at TsimaneLodge.com. It was great being on location at the same time as he. Want more video of this place? A film known as
Kings of the River
is coming out soon and looks to be very entertaining.


Thanks:
To Russ Hyde for tying some bugs that worked amazingly well. Big nasty flies on sharp Owner hooks, what else could you ask for?

Find out More about Tsimane Lodge:
Shoot Rodrigo Salles an eMail at
rodrigo@untamedangling.com. He has more in the way of details, how to book, availability, etc. Rumor has it that 2010 is almost full.







Contact me with Questions:

I could go on and on about Tsimane Lodge; please don't hesitate to contact me at grant@castawayfilms.com with questions or comments.



Thanks for your interest in

Devil's Gold,

Tsimane Lodge, Untamed Angling,

and Castaway Films!